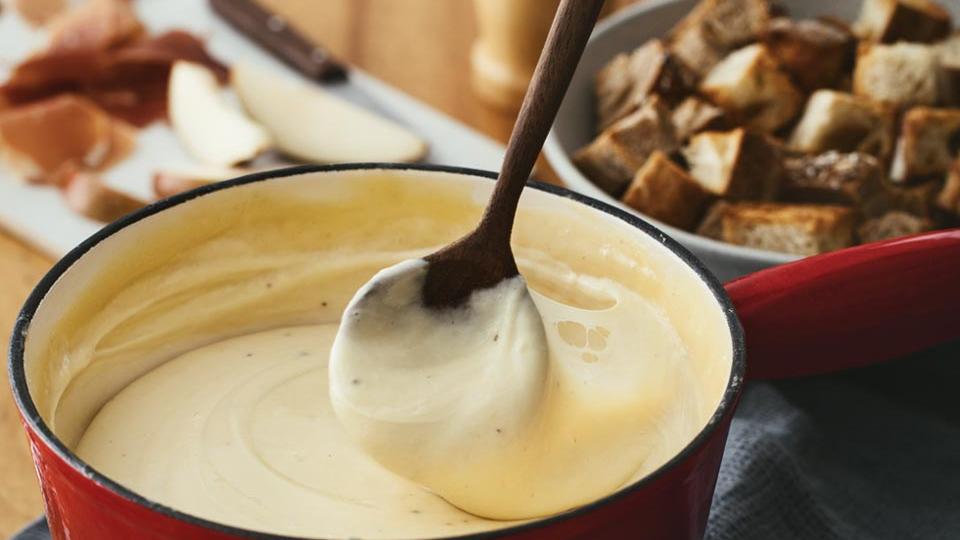 Table Art
How to make a scrumptious fondue with Agropur fine cheeses
Fabulous fondue isn't only for chalets in the Swiss Alps! Swiss families actually make this fuss-free dish at home on weeknights, rather than on special occasions. Here's the perfect recipe for (almost) casual everyday situations!
Step 1: Select 2 or 3 Agropur fine cheeses
To obtain the gooey texture needed, the best option is Jarlsberg cheese.
Depending on the intensity you prefer, you can blend it with mild OKA L'Artisan cheese, which has the distinctive appearance of a European-style cheese with holes, or our Swiss Gruyère le Superbe, with its more pronounced taste.
For super casual gatherings, complete your combination with the legendary mild-tasting OKA cheese or the more boldly flavoured OKA Classic Cheese.
Depending on the capacity of your fondue pot, plan for 600 g to 900 g of cheese in total.
Step 2: Prepare the fondue pot
Remove the rinds from the Agropur fine cheeses and roughly grate them, or for semi-firm cheeses, dice them.
Next, peel a clove of garlic and rub the inside of the fondue pot with it. Chop the garlic and set aside.
In a separate dish, combine 1 tbsp. of cornstarch with 1 tbsp. of a fruity brandy such as kirsch.
Before turning on the burner, add the Agropur fine cheeses, chopped garlic and 1½ cups of dry white wine to fondue pot . Combine and bring to a boil.
Add pepper (if needed) during preparation.
Gradually add the cornstarch and kirsch mixture while stirring.
Reduce heat to low and stir until mixture is well blended and smooth.
Serve immediately with pieces of bread that you prepared earlier.
One final step: savour the "après-fondue"
The best moment is when the pot is close to empty and the last bits of Agropur fine cheese fondue are almost crispy. Add an egg yolk and wait a few seconds while it starts to cook. Dip a piece of bread into the partially cooked egg yolk and enjoy!
Fondue is one of the simplest dishes to prepare when you're having guests over. Ask about our recommendations for which Agropur fine cheeses to select for your tasting platter.
See our list of suggestions for enjoying Agropur fine cheeses.