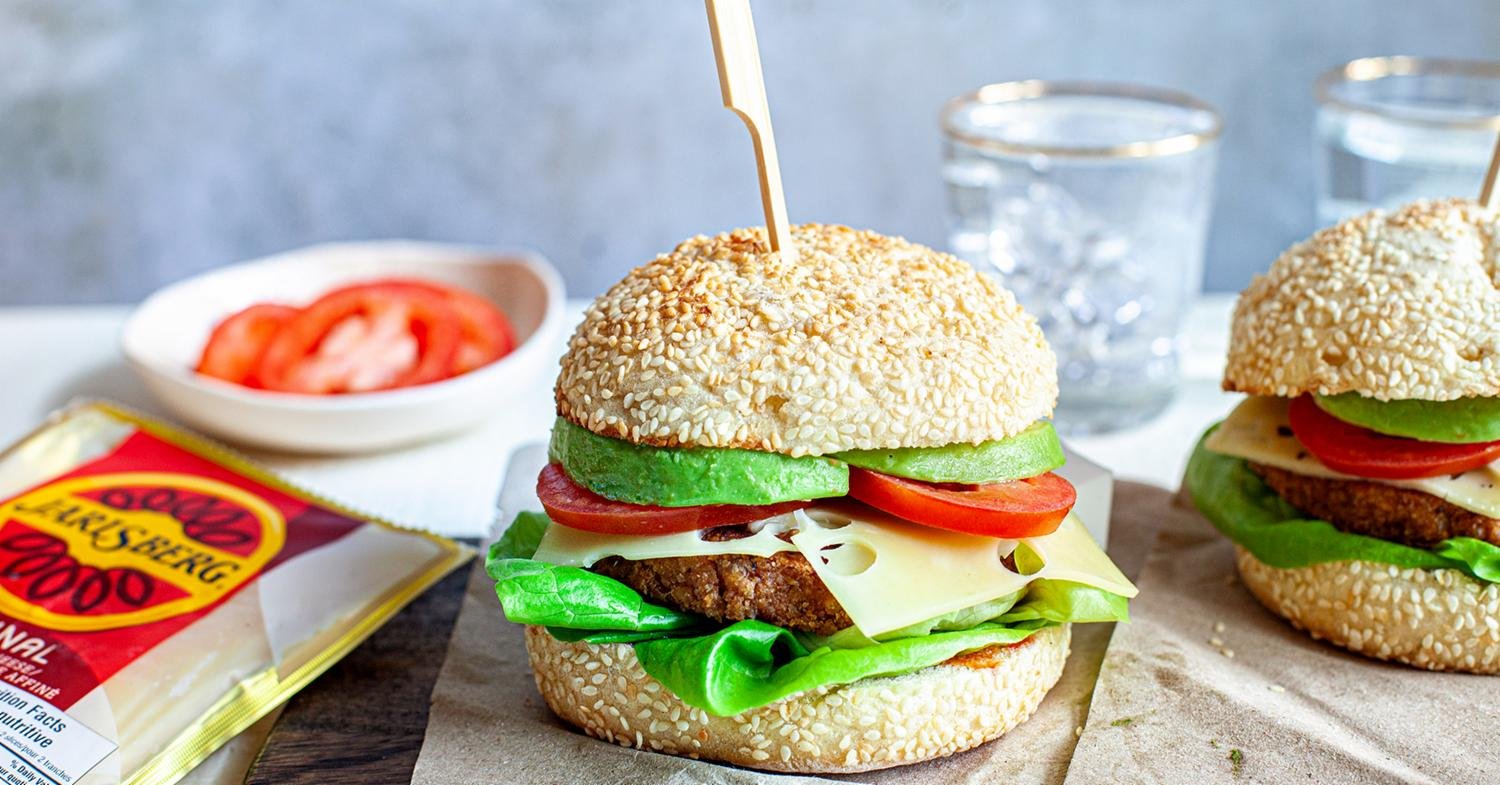 Veggie burgers with Jarlsberg cheese
4-8 hamburgers
Ingredients
Veggie patties with brown rice and legumes
1 small onion, chopped
1 cup cooked brown rice*
1 cup panko breadcrumbs
2 cups canned mixed legumes, rinsed and drained
1 tbsp. smoked paprika
1 tsp. cumin
2 tbsp. olive oil
1 tbsp. Dijon mustard
Sea salt and ground pepper, to taste
½ cup sunflower seeds
Vegetable oil (for frying)
*You can use pre-cooked brown rice to save time.
Burgers
6-8 burger buns
Jarlsberg cheese, sliced
Avocado, sliced
Leaves of lettuce
Preparation
Preheat the oven to 350 °F (180 °C). Line a baking sheet with parchment paper.

In the bowl of a food processor, combine all ingredients except the sunflower seeds until you get a lumpy and slightly sticky paste. Season generously with salt and pepper.

Add the sunflower seeds, mix briefly with a spatula, then run the food processor for about 30 seconds to blend the paste while maintaining the crunchy texture of the seeds.

Using your hands, shape the paste into patties. To keep the patties together, add some liquid if needed.

Heat the vegetable oil and fry the patties in a non-stick pan for about 5 minutes on each side, or until each surface is golden brown.

Transfer the patties to the lined baking sheet and place them in the preheated oven for 15 minutes, turning them halfway through.

Assemble the burgers by placing each patty on a bun. Garnish with your choice of condiments, Jalsberg cheese, avocado and lettuce.