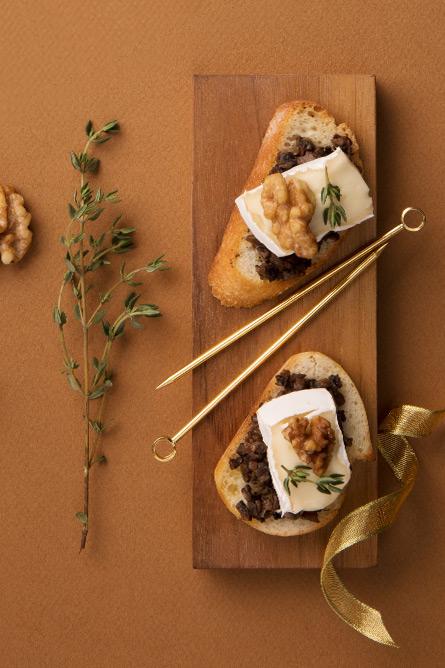 L'Extra Brie with duxelles
24 bites
Description
Duxelles (doo-SELL) is, quite frankly, a fancy word for a simply delicious garnish made of finely chopped mushrooms fried with butter, onions and herbs. Duxelles brings out the faint fragrance of mushroom that lurks in the rind of this cheese, making the dish a sensational treat.
Ingredients
225g L'Extra Brie cheese
1 tbsp unsalted butter
1 shallot, finely chopped
1 garlic clove, minced
500g cremini mushrooms, stem ends trimmed, finely chopped
1 baguette bread, sliced into ¼-inch rounds
½ cup walnuts, chopped
Salt and pepper, to taste
Preparation
Crostinis
Preheat oven to 350º F.
Place bread slices on a baking sheet.
Toast in the oven until crisp and golden, 15 to 20 minutes. Set aside.
Mushroom duxelles
Melt butter in a large skillet over medium heat.
Add shallot and garlic; cook, stirring, until softened, about 3 minutes.
Add mushrooms with salt and pepper; cook, stirring, until mushrooms have softened and released their liquid, about 7 minutes. Raise heat to medium to high; cook until liquid has evaporated, about 3 minutes more.
Assembly
Top each crostini with mushroom Duxelles. Garnish with L'Extra Brie cheese and walnuts.