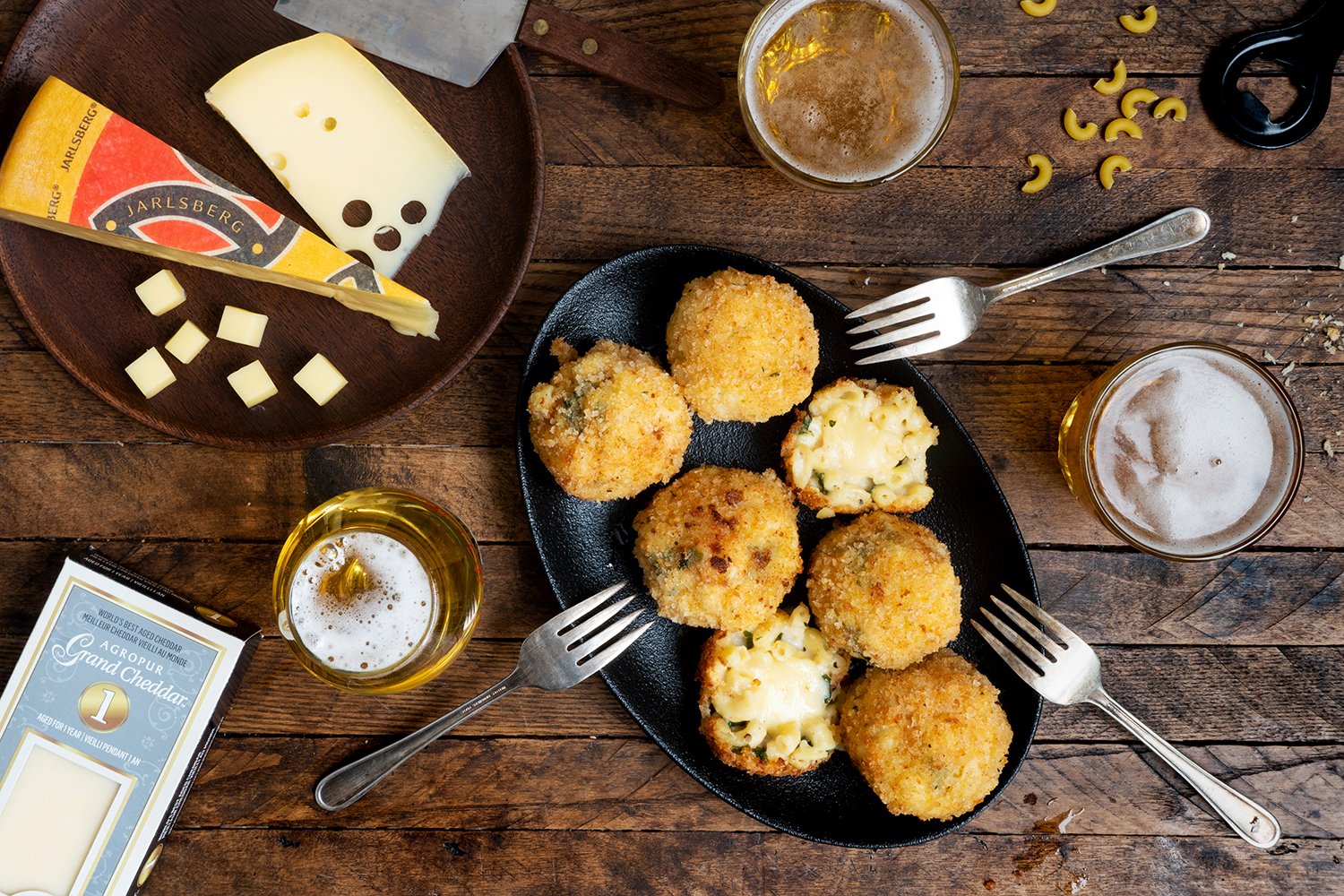 Fried Mac & Cheese balls with Agropur Grand Cheddar and Jarlsberg
20 balls
Ingredients
Mac and cheese
2 cups macaroni
2 tbsp. butter
2 tbsp. flour
2 cups milk
2½ cups grated Agropur Grand Cheddar (1 year)
¼ tsp. nutmeg
Sea salt and ground pepper
20 cubes Jarlsberg cheese
Breading
2 eggs
¼ cup milk
1½ cups panko
1 tsp. smoked paprika
1 cup vegetable oil (for cooking)
Preparation
Cook macaroni in a large volume of salted water according to manufacturer's instructions. Set aside.
Melt butter in a medium-sized saucepan. Add flour and mix continuously for 1 minute. Once flour begins to brown, add milk and nutmeg while continuing to whisk until mixture thickens. Let simmer for 2 minutes, then add grated cheddar cheese. Season with salt and pepper.
Add cooked macaroni to sauce and mix.
Spread mixture in a gratin dish and put in refrigerator for 2 to 4 hours, preferably all night.
Use an ice cream scoop to form macaroni and cheese balls, placing a cube of Jarlsberg cheese in centre of each ball. Place balls on a baking sheet covered with parchment paper and put in freezer for 2 hours.
In a bowl, mix panko with smoked paprika. In another bowl, beat eggs and milk.
Heat oil in a large, high-rim, non-stick pan. Roll each ball in milk and egg mixture, then in panko. Fry a few balls at a time until golden-brown and crispy. Reheat in oven if desired to melt cheese inside.