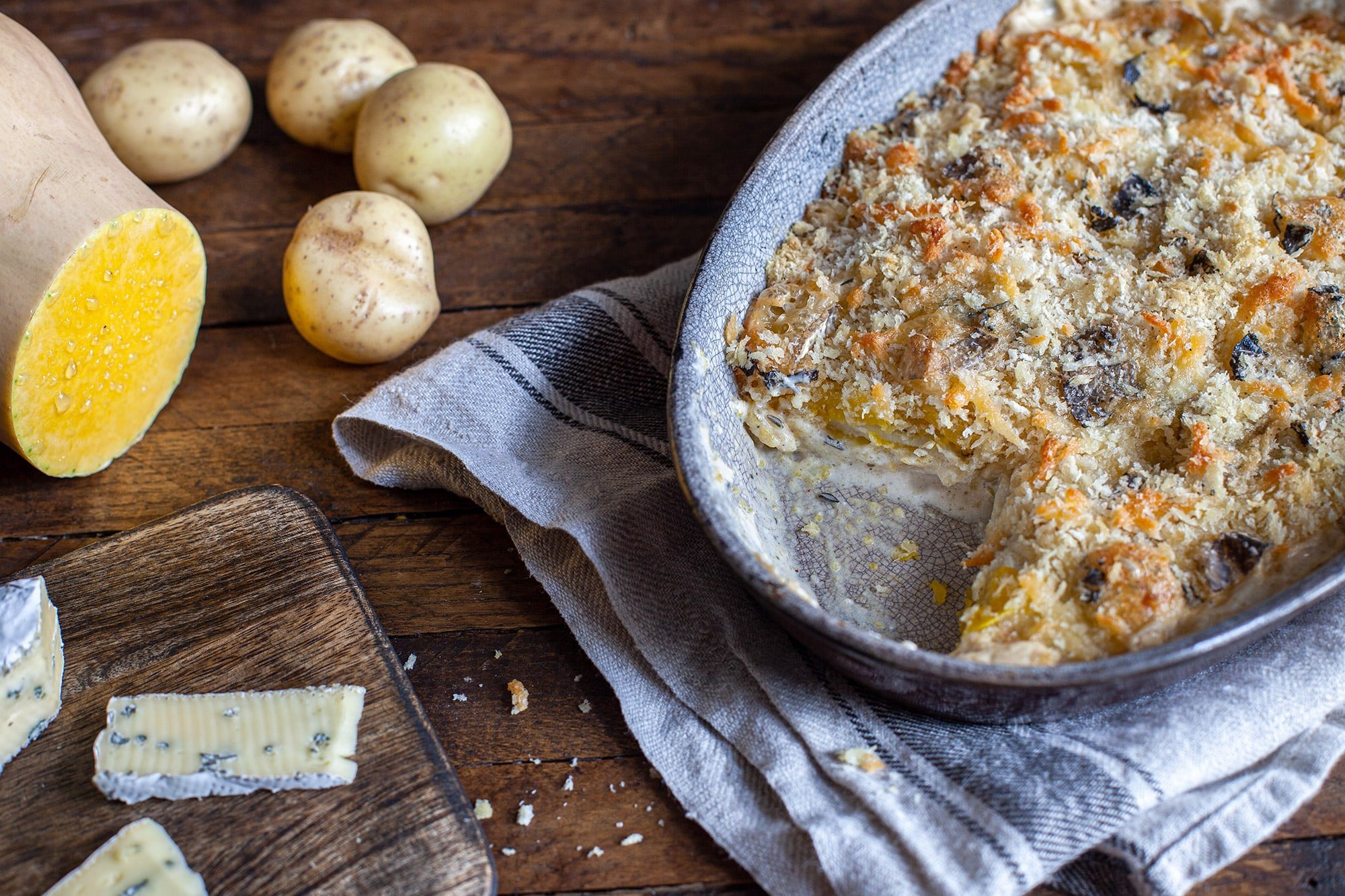 Butternut squash with Cambozola cheese gratin
6-8 portions
Ingredients
3 small potatoes, peeled and thinly sliced

½ small Butternut squash, thinly sliced

1 French shallot, minced

2 tbsp. butter

2 sprigs fresh thyme, leaves removed

1½ cups 15% cream

½ tsp. nutmeg

¼ tsp. cayenne pepper

1 cup panko or breadcrumbs

1 cup cheddar cheese, grated and divided in two

100 g Cambozola, crumbled

Sea salt and ground pepper
Preparation
Preheat the oven to 350 °F (180 °C).

In a saucepan, melt the butter. Add the shallot, potatoes, squash and thyme. Sauté for 2 or 3 minutes, stirring frequently. Season with salt and pepper.

Pour the mixture into a gratin dish. In the same saucepan over low heat, add the cream, nutmeg, cayenne pepper and 4 tablespoons of grated cheddar cheese. Mix with a wooden spoon. Pour into the gratin dish and coat the vegetables well.

Mix the panko with the rest of the cheddar cheese and the crumbled Cambozola. Season with salt and pepper. Sprinkle the cheddar mixture over the gratin.

Bake for at least 30 minutes. The gratin must be browned, but above all the vegetables must cook, become soft and absorb some of the cream. If the gratin is browning too quickly, reduce the oven temperature slightly or place a sheet of aluminum foil on top.

Allow to cool for a few minutes, then serve.