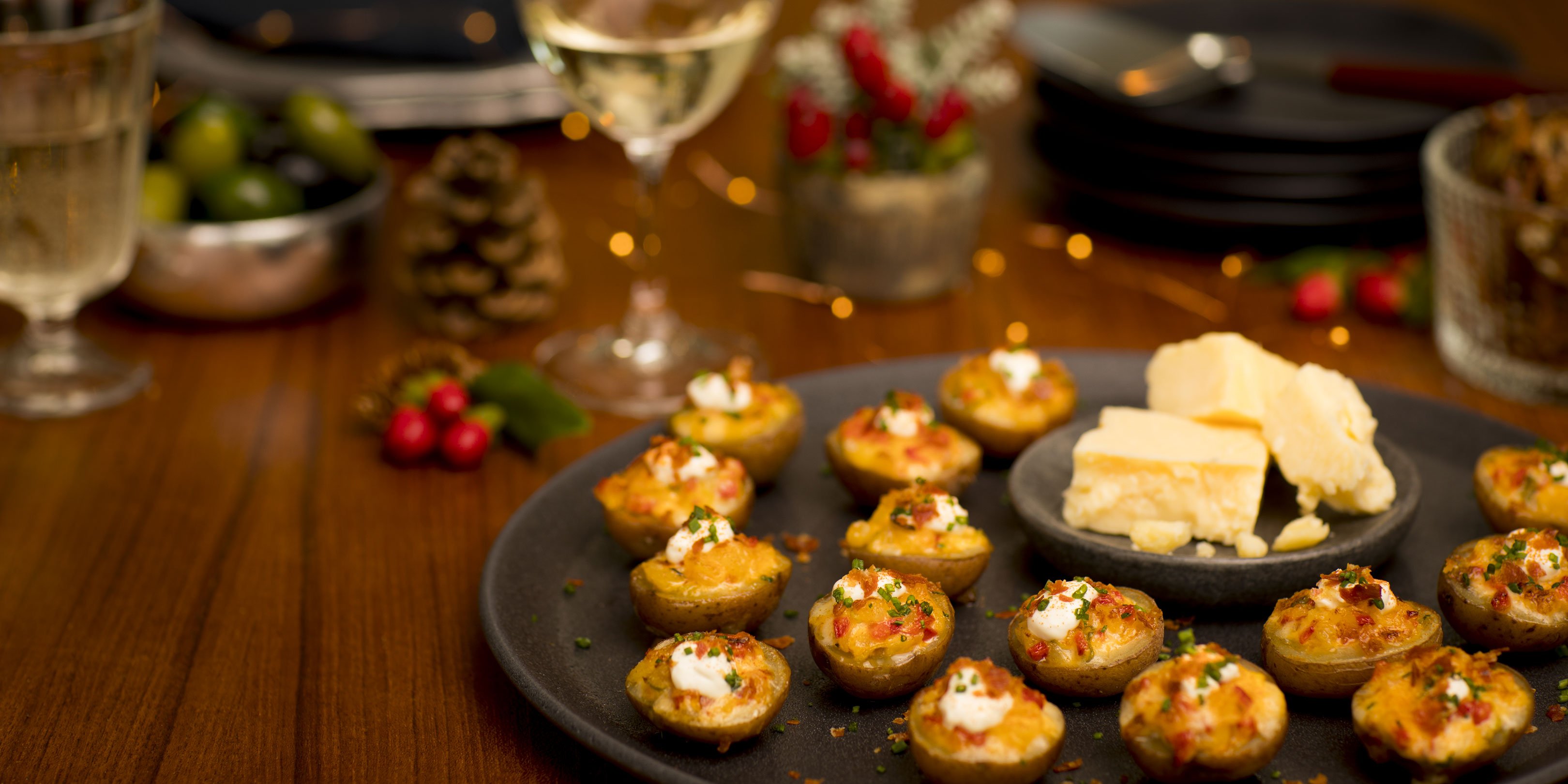 Pancetta Potatoes au Gratin
24 bites
Description
The signature sharpness of Agropur Grand Cheddar fuses sweet peppers with savoury pancetta, transforming baby potatoes into a thing of beauty.
Ingredients
INGREDIENTS
12 baby round potatoes with skin, previously blanched
1 chopped green onion
250 ml (1 cup) of grated Agropur Grand Cheddar cheese
65 ml (1/4 cup) of chopped canned roasted peppers
30 ml (2 tbsp) of mayonnaise
Few drops of hot sauce
Salt and pepper to taste
TOPPINGS
125 ml (1/2 cup) of sour cream
4 slices of crumbled cooked pancetta
Smoked paprika
Chopped chive
Preparation
In a bowl, mix green onion, Agropur Grand Cheddar, roasted peppers, mayonnaise and season with salt, pepper and few drops of hot sauce. Reserve.
Slice each potato in two. Using a spoon, hollow out the flesh of the potato to create a hole while leaving a thickness of 0.5 cm (1/4") so the potato half remains up.
Using a fork, mash the removed flesh from potatoes and blend with the cheese and roasted peppers mixture.
Use a parchment paper lined baking sheet to arrange the potato halves anda spoon to fill and stuff each potato half with the cheese mixture and pressto firm.
Preheat oven to 200°C (400°F). Cook on top rack for about 10 minutes or until cheese mixture is golden.
Cool for about 5 minutes and place on a serving platter. Garnish each potato with sour cream, bits of pancetta, smoked paprika and fresh chopped chive. Serve warm.