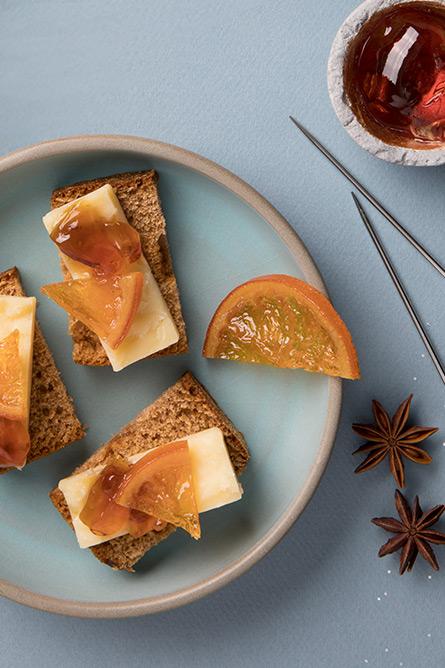 Agropur Grand Cheddar with sweet spice
24 bites
Description
Nothing says holiday more than the combination of beautiful, rich flavours in a single bite. This recipe does just that infusing the citrus of candied orange and sweetness of maple with the distinct sharpness of Agropur Grand Cheddar. This unusual combination of familiar profiles will delight any cheese lover.
Ingredients
200g Agropur Grand Cheddar cheese, cut into 24 squares
1 loaf gingerbread or fruitcake, cut in 24 slices
4 tbsp maple jelly
4 tbsp orange peel confit, cut in small chunks
Preparation
Gingerbread or fruitcake toasts
Preheat oven to 350º F.
Place gingerbread or fruitcake slices on a baking sheet.
Toast in the oven until crisp, about 10 minutes
Assembly
Top each gingerbread or fruitcake toast with a slice of Agropur Grand Cheddar cheese, a dollop of maple jelly and a piece of orange confit.