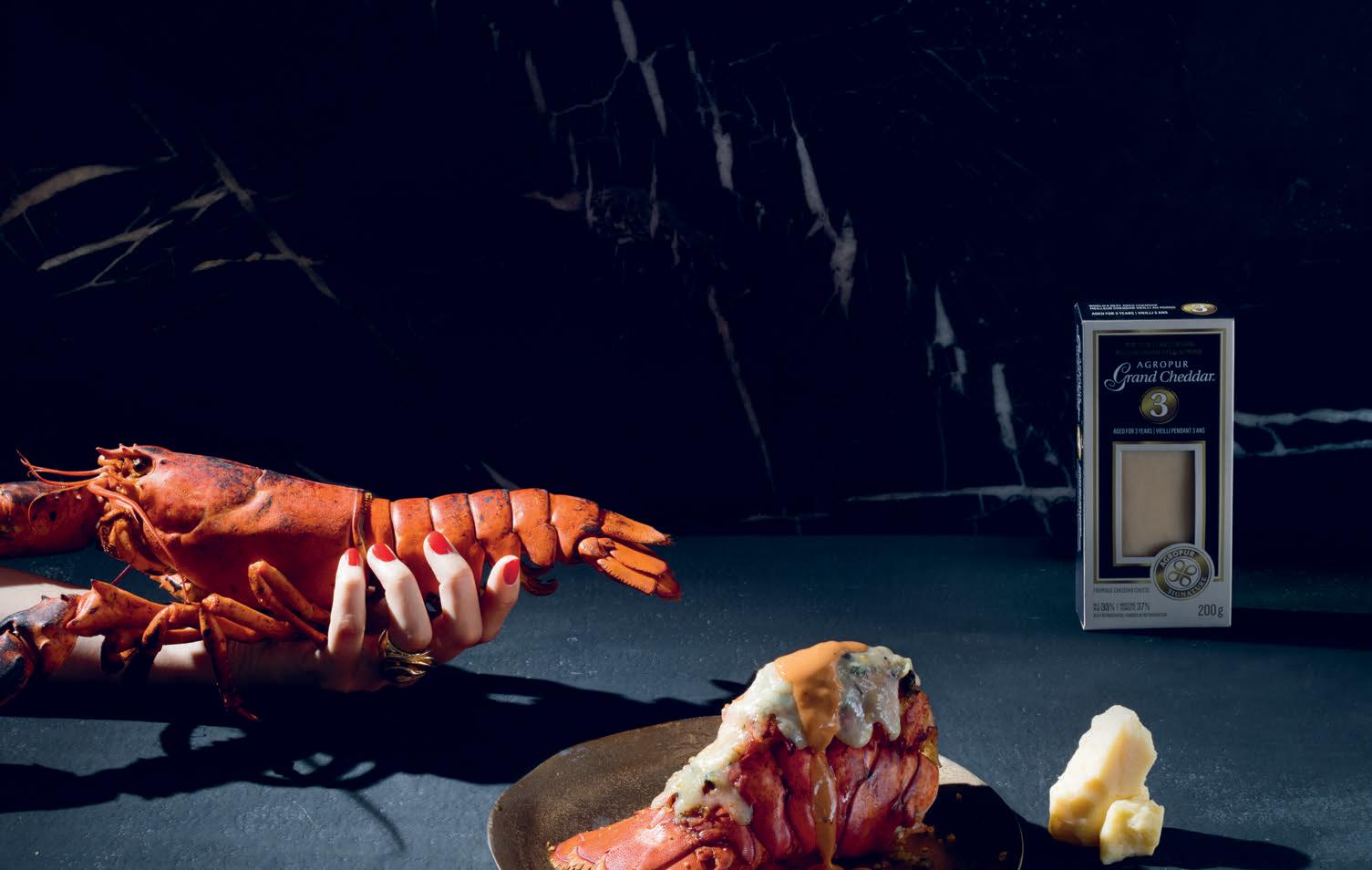 Lobster stuffed with 3-year-old Agropur Grand Cheddar
2 servings
Ingredients
2 lobsters, preferably at least 1 female, 1 1/2 lb each
1/2 cup 3-year-old Agropur Grand Cheddar, grated
Stuffing
1 tbsp oil
2 french shallots, sliced
1/4 cup chopped parsley
1/4 cup chopped dill
1/2 cup gluten-free bread crumbs
salt and pepper
Lobster roe butter sauce
1/2 cup Natrel salted butter (cold, cubed)
roe of 1 or 2 female lobsters
liver of both lobsters
1/2 cup Natrel Lactose Free 35% whipping cream
salt and pepper
Preparation
Preheat the oven to 400°F.
Lobster
Bring salted water to a boil in a pot large enough to hold the lobsters.
Prepare an ice bath to cool the lobsters once par-cooked.
Once the water boils, plunge the lobsters infor 5 minutes. Transfer to the ice bath and let cool completely.
Cut the lobsters in half length wise along the body, discard the insides, keep the liver along with the roe and set aside in the refrigerator.
Rinse the halved lobsters under running water, crack the claws and put the lobsters on a baking sheet lined with parchment paper.
Stuffing
Heat the oil in a skillet and sweat the shallots; add the parsley, dill, breadcrumbs and saltand pepper. Make sure the ingredients are well coated in oil and set aside.
Lobster roe butter sauce
Melt half the butter over low heat, add the roe and livers, coat with the melted butter and add the cream, salt and pepper. Once the cream is near a boil, whisk in the remaining butter, one cube at a time. Once the sauce is emulsified, set aside and keep warm
Top the halved lobsters with the herb stuffing, making sure the cavities are filled with the stuffing. Top with the grated 3-year-old Agropur Grand Cheddar.
Cook the stuffed lobsters in the oven for 5 minutes.
Once the cheese is melted, increase the heat to broil and cook for 2–3 minutes until golden.
To serve, pour some sauce on a plate and put the halved lobster on top.