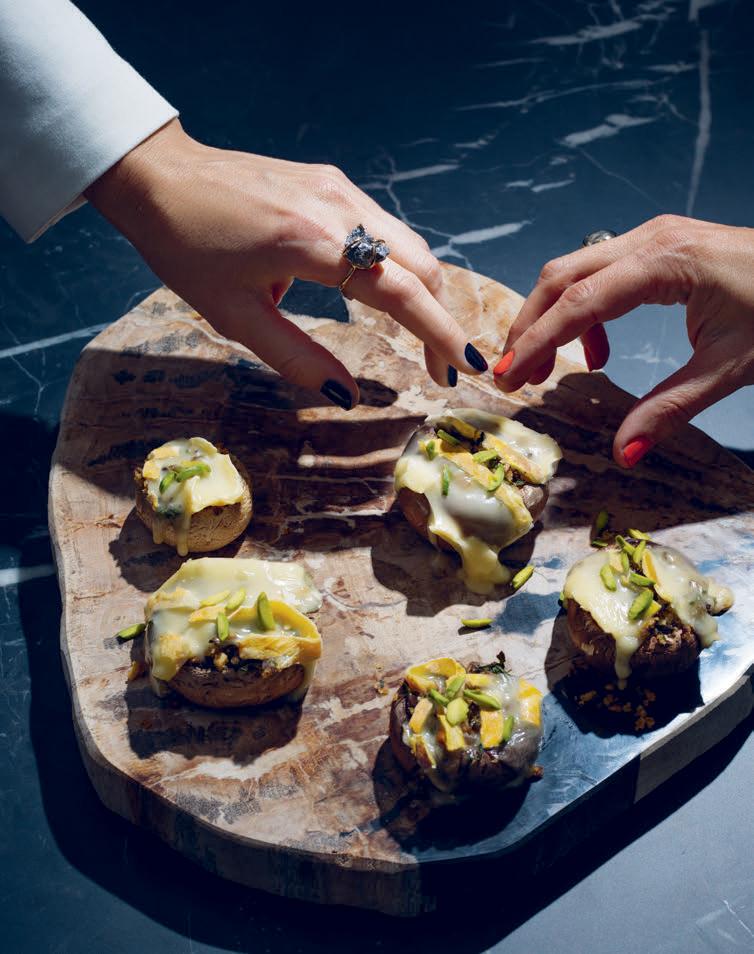 Champfleury stuffed mushrooms
24 mushrooms
Ingredients
24 cremini mushrooms
2 shallots, chopped
1 tbsp olive oil
1/4 cup white wine
1/4 cup breadcrumbs
1/4 cup chopped parsley
salt and pepper
225 g Champfleury cheese, thinly sliced
chopped pistachios
Preparation
Preheat the oven to 400°F and line a baking sheet with parchment paper.
Separate the stems from the caps of the mushrooms. Hollow the caps out, reserving the mushroom flesh. Place the caps hollowed side up on the baking sheet.
In a skillet over medium heat, sauté the reserved mushroom flesh and shallots in the olive oil. Deglaze with the white wine and reduce by half. Remove from the heat and add the bread crumbs and parsley. Season to taste with salt and pepper.
Stuff the mushroom caps with this mixture, and bake for 5–7 minutes, or until starting to sizzle.
Remove the caps from the oven and top with the slices of Champfleury cheese. Bake for a further 3–4 minutes, or until the cheese is melted. Garnish with chopped pistachios.