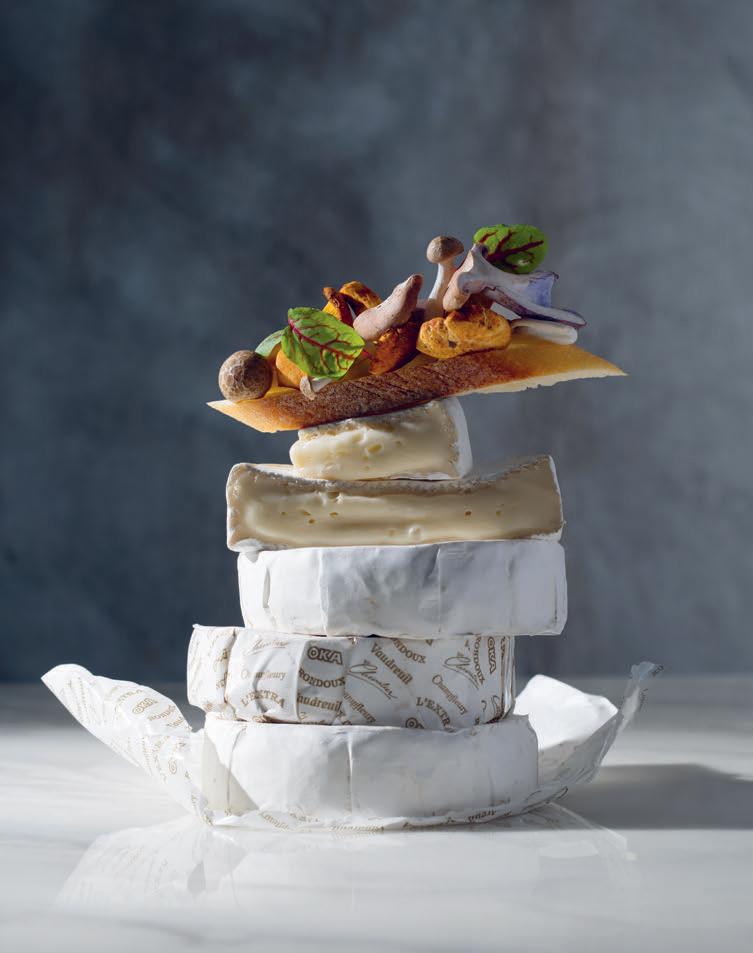 L'Extra Camembert and wild mushroom crostini
4 to 6 servings
Ingredients
2 tbsp Natrel salted butter
3 tbsp olive oil
450 g wild mushrooms, cleaned and diced
1 shallot, finely chopped
salt and pepper
1 tbsp finely chopped Italian parsley
1 bunch Swiss chard, washed, stems separated and chopped finely, leaves chopped roughly
12–18 slices of baguette, cut on the bias 1/2" thick
250 g L'Extra Camembert, sliced
fresh thyme
Preparation
Mushrooms
Heat 1 tbsp of the butter and 1 tbsp of the oil in a skillet over medium-high heat. Add the mushrooms and cook, stirring often, for 8–10 minutes, until the moisture from the mushrooms has evaporated. Add 1 tbsp of butter and the shallot. Sauté another 2–3 minutes and season to taste with salt and pepper; add the parsley. Transfer to a bowl and set aside.
Swiss chard
In the same pan, heat 1 tbsp of the olive oil. Add the Swiss chard stems and sauté for 4–5 minutes until beginning to soften. Add the leaves and the remaining butter. Once the leaves start wilting, mix well and season to taste with salt and pepper. Cook another 2–3 minutes. Remove from the heat and set aside.
Assembly
Preheat the oven to 350°F. Place bread slices on a parchment-lined baking sheet and drizzle with the remaining olive oil. Bake for 2–3 minutes on each side.
Top each piece of bread with 1 tbsp of cooked Swiss chard, 1 tbsp of mushrooms and 1 slice of L'Extra Camembert. Garnish with a small sprig of thyme. Return to the oven for 1–2 minutes, or until cheese starts to melt. Serve immediately.