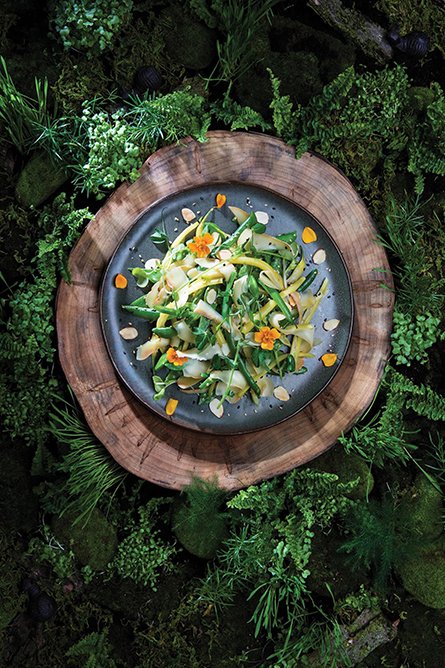 Tahini three-bean salad with OKA
4 to 6 servings
Description
It's an inspired combination! Three-bean salad—a classic summer picnic dish— upgraded with OKA shavings. The tahini dressing completes wonderfully and brings out the nuttiness of the OKA cheese. This salad is a perfect (and surprising!) dish to bring to a potluck BBQ or to serve alongside chicken, lamb or a rack of ribs.
Ingredients
For the dressing
2 tbsp grapeseed oil
2 tbsp sesame oil
2 tbsp rice vinegar
2 tbsp reduced-sodium tamari
2-inch piece of ginger, roughly chopped
1 tbsp maple syrup
½ cup tahini
For the salad
190 g OKA cheese, shaved with a potato peeler
2 cups green beans
2 cups yellow beans
2 cups sugar snap peas or snow peas
1 cup pea shoots
1 tsp salt
1 tbsp olive oil
2 tbsp black and white sesame seeds
½ cup toasted sliced almonds
Microgreens and edible flowers to garnish
Preparation
Preparation
Blend all the dressing ingredients in a blender until smooth. Store in a hermetically sealed container. Makes 1½ cup. Dressing will keep for up to a week refrigerated.
Prepare an ice bath (a large bowl of cold water and ice). Set aside.
Fill a large pot with cold water and bring to a boil. In the meantime, trim the beans and sugar snap peas. In the boiling water blanch the beans in batches for 4 minutes. With a slotted spoon, transfer to the ice bath. In the same pot blanch the sugar snap peas for 1 minute. Drain all the beans and dry thoroughly. Cut beans on the bias or lengthwise, as desired.
In a large bowl, mix all your beans and season with salt and pepper. Add desired amount of dressing, sesame seeds, and almonds. Garnish with pea shoots, microgreens and edible flowers to taste and lots of shaved OKA. Can be served hot or cold.