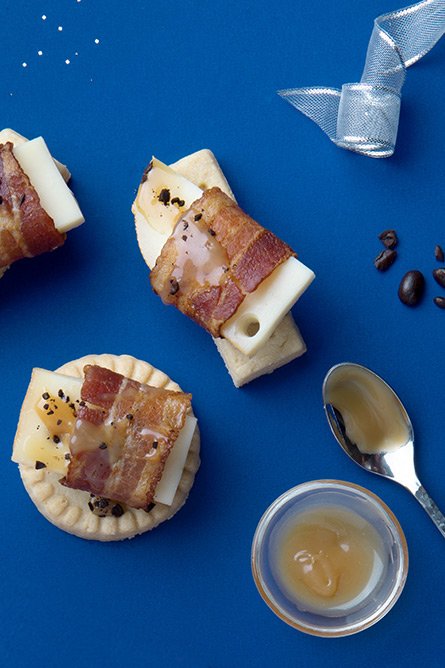 OKA L'Artisan with salted sweetness
24 bites
Description
An unexpected blend of flavours surprises the taste buds in a powerful and fascinating way in this recipe. Coffee, salted caramel and bacon get layered on top of shortbread with the Swiss-like character of OKA L'Artisan, creating a creamy and lush indulgence.
Ingredients
190g to 200g OKA L'Artisan cheese, cut into 24 pieces
6 slices bacon
24 shortbread cookies
¼ cup salted caramel spread
1 tbsp crushed coffee beans
Preparation
Bacon
Preheat oven to 400º F.
Lay the bacon on a baking sheet and bake for 15 to 20 minutes until the bacon is crispy.
Dry on paper towels.
Cut bacon in 24 pieces.
Assembly
Top each shortbread cookie with a slice of OKA L'Artisan cheese, salted caramel spread, bacon and a pinch of crushed coffee beans.