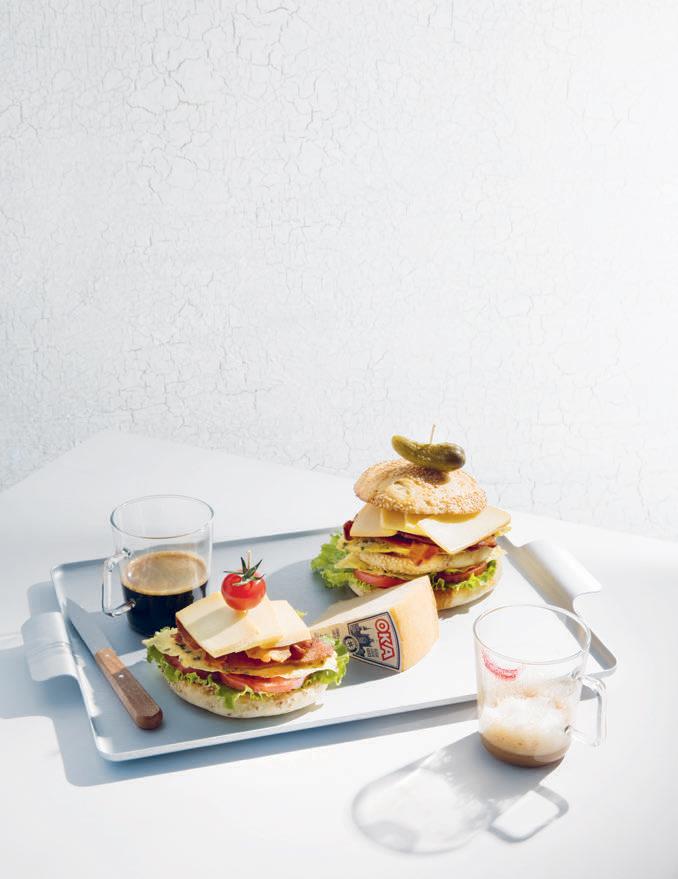 OKA cheese breakfast sandwich
2 to 4 servings
Ingredients
6 slices bacon
4 eggs, lightly beaten
1 tbsp Natrel Fine-filtered 2% milk
1 tbsp finely chopped chives
1 pinch salt
1 pinch pepper
6 slices white bread
2 tbsp mayonnaise (add 1 tsp Sriracha to kick it up a notch)
1 head of frisée lettuce,leaves picked and washed
1 tomato, sliced
OKA cheese, cut into 8 slices
Preparation
Bacon
Preheat the oven to 350°F and line a baking sheet with parchment paper.
Arrange the slices of bacon on the baking sheet and cook to desired crispiness; about 12 minutes for soft and 15 minutes for very crispy. Drain the bacon on paper towel and set aside.
Omelette
While the bacon is cooking, mix the eggs, milk, chives, salt and pepper together in a medium bowl. Pour the mixture into anon-stick skillet over medium-low heat. Place a cover on the pan and cook until the egg mixture is set, about 5–7 minutes. Transfer the omelette onto a plate and cut into 4 pieces. Set aside and keep warm with the bacon.
Assembly
Toast the bread. To assemble, spread the mayonnaise on a piece of toast. Top with the lettuce and two pieces of omelette. Spread mayo on both sides of the next piece of toastand place on top of the omelette pieces. Add tomato slices, 3 slices of bacon and 4 slices of OKA cheese. Spread the third piece of toast with mayo and cover the sandwich.
Repeat to make the second sandwich.