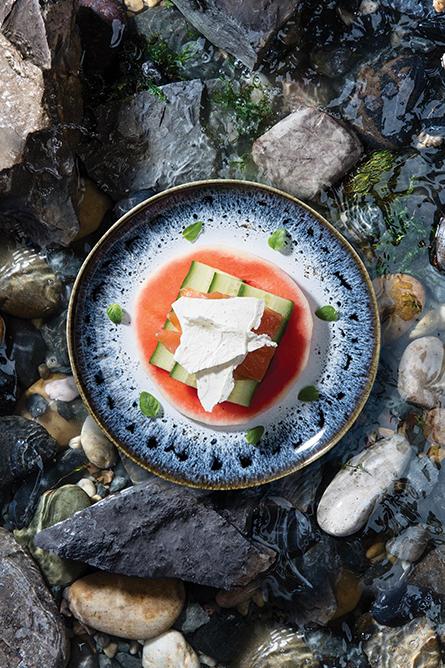 Melon and gravlax stack with frozen Chèvre des Alpes
4 to 6 servings
Description
Be ready for this showstopper! Adding to the mouthwatering pairing of melon and cucumber, we propose stunningly delicious shards of Chèvre des Alpes, kissed with lemon and black pepper. It melts in your mouth like frozen, tangy silk. It's like a mini-popsicle for cheese lovers. Bonus—it's super easy to make! Add gravlax for an hearty meal option; or keep it entrée-style without the salmon.
Ingredients
For the frozen Chèvre des Alpes :
125 g Chèvre des Alpes
Zest of half a lemon
2 tsp lemon juice
1 tsp olive oil
1/8 tsp black pepper
For the salad
500 g salmon gravlax sliced (optional)
1 English cucumber, sliced ¼ inch thick
1 small seedless watermelon
1 tbsp reduced balsamic vinegar or glaze
1 tbsp olive oil
Fresh oregano for garnish
Preparation
Preparation
In a bowl, mix all the ingredients for the frozen Chèvre des Alpes.
Line a baking sheet with parchment paper. Using a spatula, spread the mixture evenly on the baking sheet in a layer of 1/8 to ¼ inch. Place tray in freezer and let set for 1 hour.
In the meantime, prepare the stacks. Slice the watermelon into ½ inch-thick circles. Using a paring knife, slowly cut the rind all the way around without breaking the circle. Set aside.
Cut the cucumber slices into 3 to 4 inch long pieces and set aside.
When you are ready to serve, place one watermelon round on each plate. Top with three slices of cucumber then season it all with a bit of salt, pepper and olive oil. Add 1 or 2 slices of gravlax and a few drops of balsamic vinegar.
Remove the cheese from the freezer and break the "ice" into shards that you will place over the salmon. Sprinkle with oregano leaves and serve immediately.