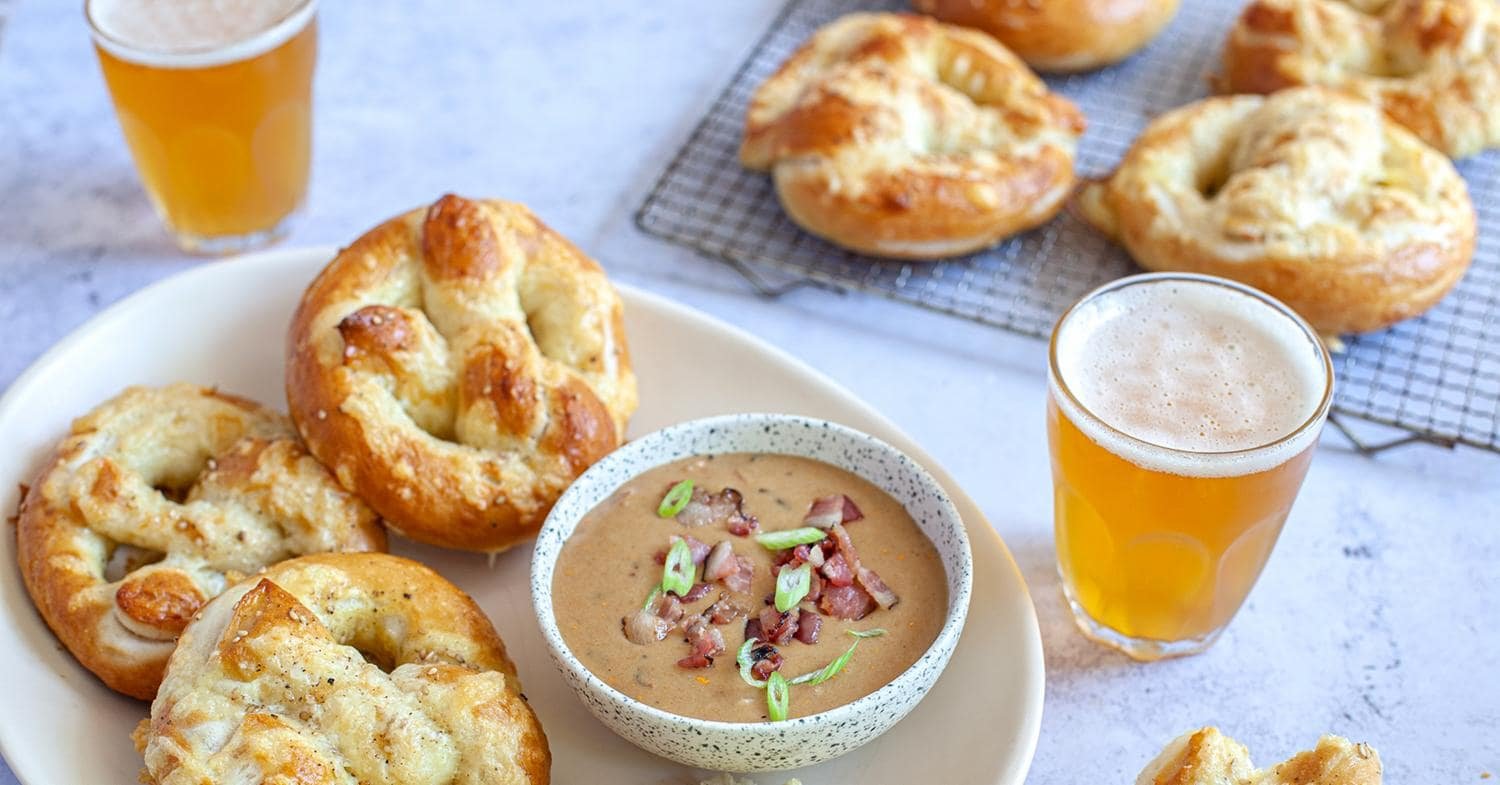 Gouda, beer and bacon dip with cheddar pretzels
12
Ingredients
Cheddar pretzels
1½ cups warm water
1 tbsp. sugar
1 packet active dry yeast
4 cups flour
2 tsp. salt
¼ cup butter, melted
1 egg yolk
1 tbsp. water
1 cup cheddar cheese, grated
For cooking:
½ cup baking soda
12 cups water
Gouda dip
4 slices of bacon
3 tbsp. all-purpose flour
½ cup milk
¾ cup dark beer
1 tsp. Dijon mustard
1 tsp. hot sauce
2 tsp. Worcestershire sauce
2 cups Anco Gouda, grated
Salt and ground pepper
Preparation
Cheddar pretzels
Pour the warm water, sugar and yeast into a small bowl. Whisk and let stand for 5 minutes to activate the yeast. Foam should form on the surface.
Add the flour and salt to a mixer bowl. Gradually add in the yeast and water preparation, and then the melted butter, stirring constantly. Using the dough hook, mix the ingredients for about 5 minutes, until the mixture is smooth and no longer sticks to the bowl. If the mixture is too dry, add a trickle of water. If it is too wet, add one tablespoon of flour at a time.
Remove the dough from the bowl and gently knead it on a clean surface, shaping it into a ball.
Put the ball of dough in a lightly oiled bowl, cover with plastic wrap and let stand for 1 hour.
Preheat the oven to 425 °F.
In a large saucepan, bring the water and baking soda to a boil.
Place the ball of dough on a clean work surface and cut it into 8 equal pieces.
Roll each piece into a cylinder about 24 inches long.
Tie each cylinder in the shape of a pretzel.
Using a slotted spoon, carefully dip one pretzel at a time into the boiling water and cook for about 10 seconds on each side.
Remove the pretzel from the water and lay it on a baking sheet covered with parchment paper.
When all the pretzels are poached, garnish them with grated cheddar and bake for 10 to 12 minutes.
Gouda dip
Cut the bacon into pieces. In a large frying pan, cook the bacon for about 10 minutes, until it is coloured and crispy. Set aside on a sheet of absorbent paper.
In the same pan, pour the flour into the bacon fat and mix for 2 minutes. Gradually add the milk and beer while stirring, then the mustard, Worcestershire sauce and hot sauce. Turn up the heat and whisk for 3 to 5 minutes until the mixture thickens.
Gradually add the grated Gouda (¼ cup at a time), making sure the cheese is well melted before adding more, so that you get a smooth, creamy sauce.
Add the bacon pieces, salt and pepper to taste and serve immediately with pretzels, vegetables or crackers. The dip can be stored in an airtight container in the refrigerator for up to 5 days. Before serving it again, heat it gently in a saucepan.