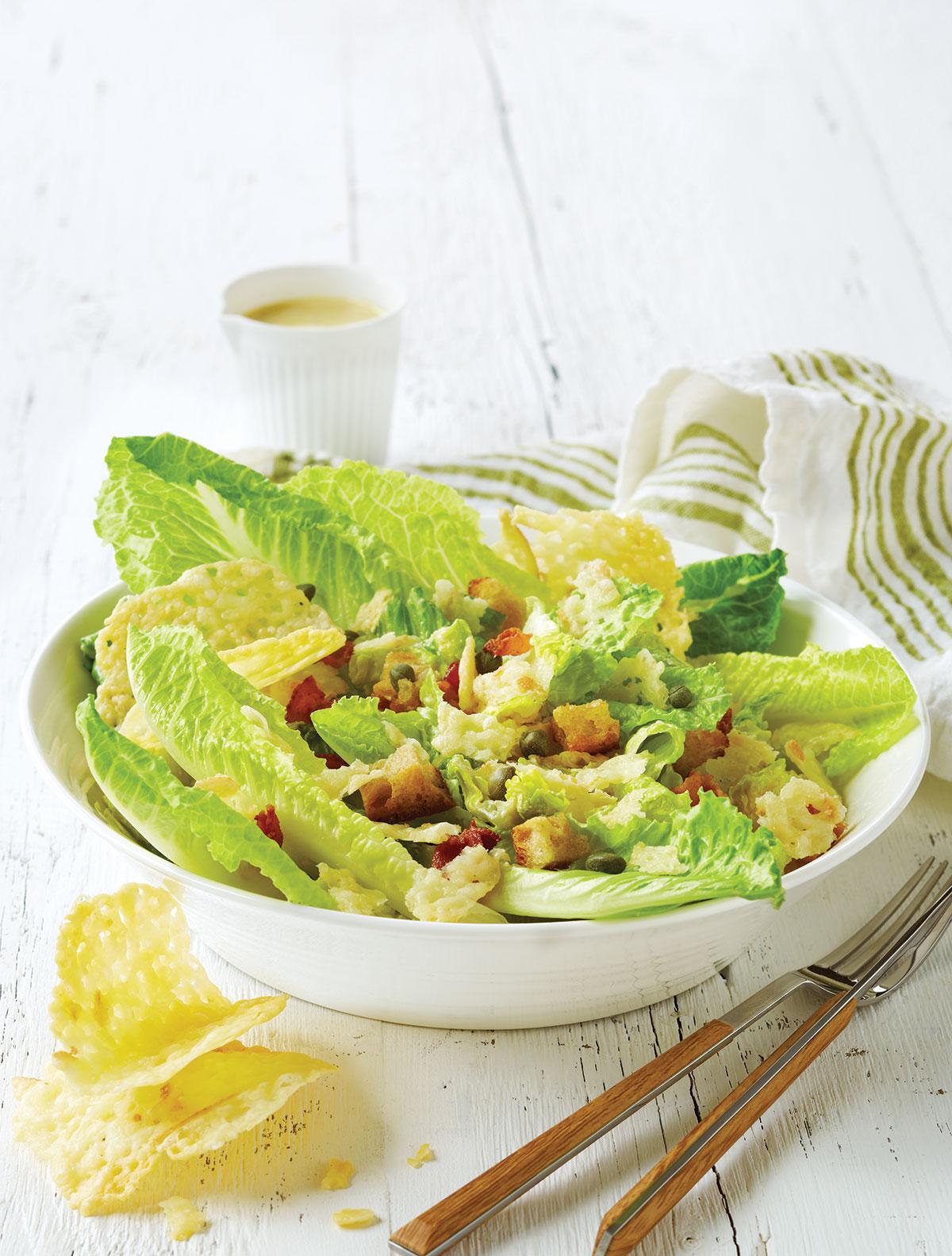 Ceasar salad with Crème Oka
4 to 6 servings
Ingredients
125 ml (½ cup) shredded or sliced OKA (see OKA crisps recipe below)
250 ml (1 cup) croutons
4 bacon slices
1 romaine lettuce (or 2 hearts), broken in pieces
15 ml (1 tbsp.) freshly chopped parsley
Salt, pepper
Dressing
1 Crème OKA jar (100 g)
15 ml (1 tbsp.) Dijon mustard
30 ml (2 tbsp.) capers, rinsed and finely chopped
2 garlic cloves, finely minced
Juice of half a lemon
15 ml (1 tbsp.) Xeres vinegar or white vinegar
45 ml (3 tbsp.) canola oil
Preparation
In a skillet, cook bacon until crisp. Drain on paper towel and crumble. Set aside.
Dressing
In a bowl, with a hand mixer or a whip, combine Crème OKA, Dijon mustard, lemon juice, vinegar, oil and garlic.
Add capers, fresh parsley, salt and pepper. Rectify seasoning if needed. NOTE: Since there are no fresh eggs in this dressing, it will keep longer in the fridge.
Preparation
In a salad bowl, mix lettuce with dressing. Reserve a few leaves for plate decoration.
Sprinkle salad with croutons, bacon and OKA cheese crisps to give it even more flavour and texture.
OKA crisps
Place rack in the middle of a 180°C (350°F) preheated oven. Line a cooking sheet with parchment paper.
Thinly slice or grate OKA cheese and place on cooking sheet in 5 cm x 5 cm shapes.
Cook for about 10 minutes or until cheese has melted and turned golden. Remove from the sheet and let stand (they will turn crispy).