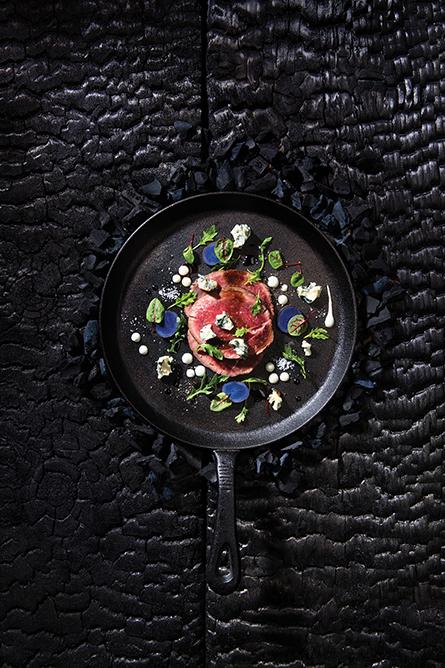 Blue beef carpaccio with Saint Agur
4 to 6 servings
Description
Carpaccio has both a primal aspect and unmistakable elegance. Here we propose a "blue" variant of a classic carpaccio - which means seared on the outside and raw on the inside. The dish is completed by creamy and crumbly Saint Agur, a cheese perfect for dressing or garnish that has an intense umami flavour and that everybody will appreciate – even blue cheese skeptics! To be performed on the barbecue, or for a little drama, on the embers of a fire. Tastes best when cooked outdoors, with mushrooms you've picked yourself, surrounded by the forest.
Ingredients
For the carpaccio
500 g filet mignon (or other high-quality beef)
2 cups baby arugula
1 tsp olive oil
1 tbsp butter
Fleur de sel
Freshly ground pepper
Grap must or olive oil for garnish
For the Saint Agur Dressing
1½ cup crumbled Saint Agur or Agropur Import Collection Roquefort
1 cup mayonnaise
½ cup buttermilk
1/3 cup greek yogurt
1 tbsp lemon juice
1 tbsp prepared horseradish
Freshly ground pepper to taste
Preparation
Préparation
In a pan, heat the olive oil and butter to medium-high heat. Season the meat and brown on all sides, about 5 minutes total. (You can also do this step in a cast iron pan heated over hot coals.) Remove from heat and let cool slightly. Wrap tightly in plastic wrap and chill for at least 2 hours, preferably overnight.
Mix 1 cup of the crumbled cheese with the rest of the dressing ingredients in a small food processor or with a hand blender. Adjust the seasoning and set aside in refrigerator. If it's too thick, add a little more buttermilk.
To serve, slice beef into thin slices and place on the plates. Season each piece with fleur de sel, pepper and a dab of grape must or olive oil. Top with a drizzle of the blue cheese dressing. Place some baby arugula on top with a few crumbled pieces of Saint Agur and finish with olive oil.