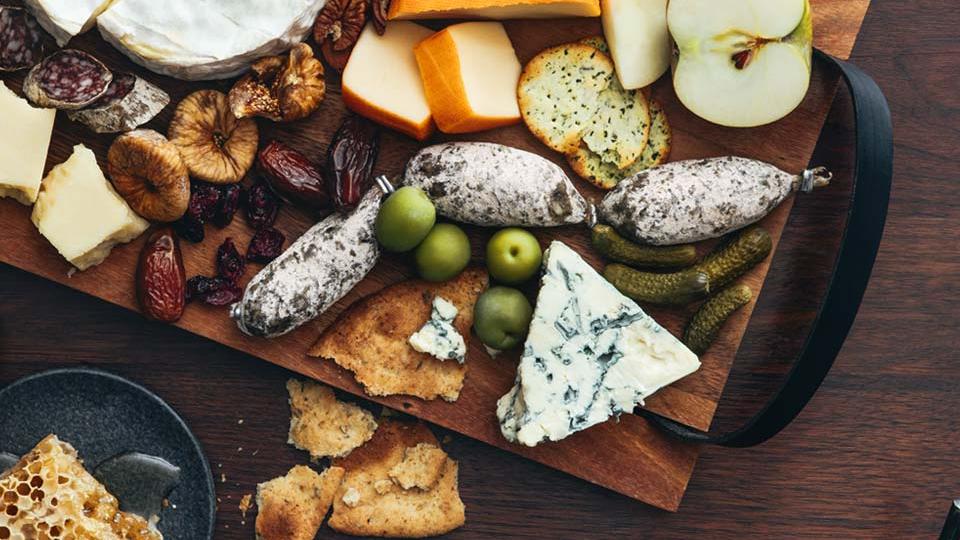 Table Art
What goes well with Agropur fine cheeses?
Our accompaniment ideas aren't limited to tasting trays. Try them as an appetizer or a snack. Of course, die-hard fans will tell you that Agropur fine cheeses are best enjoyed all on their own!
Virtually any bread or cracker
The general rule of thumb is to ensure that the taste of the bread or cracker doesn't overpower the taste of the cheese. Pair more subtle-tasting breads and crackers with fresh or soft cheeses, and reserve flavoured ones for aged firm cheeses or blue cheeses.
Country-style bread is the safest choice, as its mild taste and light acidity go well with all cheeses and it is easily served hot or cold. It is best to avoid sliced white bread because the added sugar masks the intensity of the cheeses.
Contrast the crustiness of a baguette with the softness of The Connaisseur Triple Cream Brie. Pair a nut bread with the nutty flavour of La Crème des Champs Camembert or the legendary OKA cheese. Go ahead and spread a piece of olive fougasse with Chèvre des Alpes. Introduce rye bread to St-Agur Blue Cheese. And why not try a slice of 3-Year-Old Agropur Grand Cheddar on fruit bread?
Sweet, salty and crunchy
Here we'll opt for unsalted nuts and lightly seasoned olives. In addition to the tastes of the various condiments that pair well with Agropur fine cheeses, give some thought to the textures you'd like to combine. Play around with nuances, with firmer fresh fruits such as apples and pears, and softer fruits such as figs, grapes and strawberries. A selection of jams, jellies and honey is the ideal way to round out your assortment.